What we offer.

We offer a unique and dedicated personal service, specialising in the creation, production and licensing of new retail and bespoke typefaces for the small individual client or the big international brand.
We have an extensive knowledge of type and font development throughout our collective experience in the type industry. Covering all aspects of typography and implementation be it, font design, language expansions, wordmarks and logos or licensing.

If you require any of these services or if we can help with any other type related consultancy, feel free to contact us.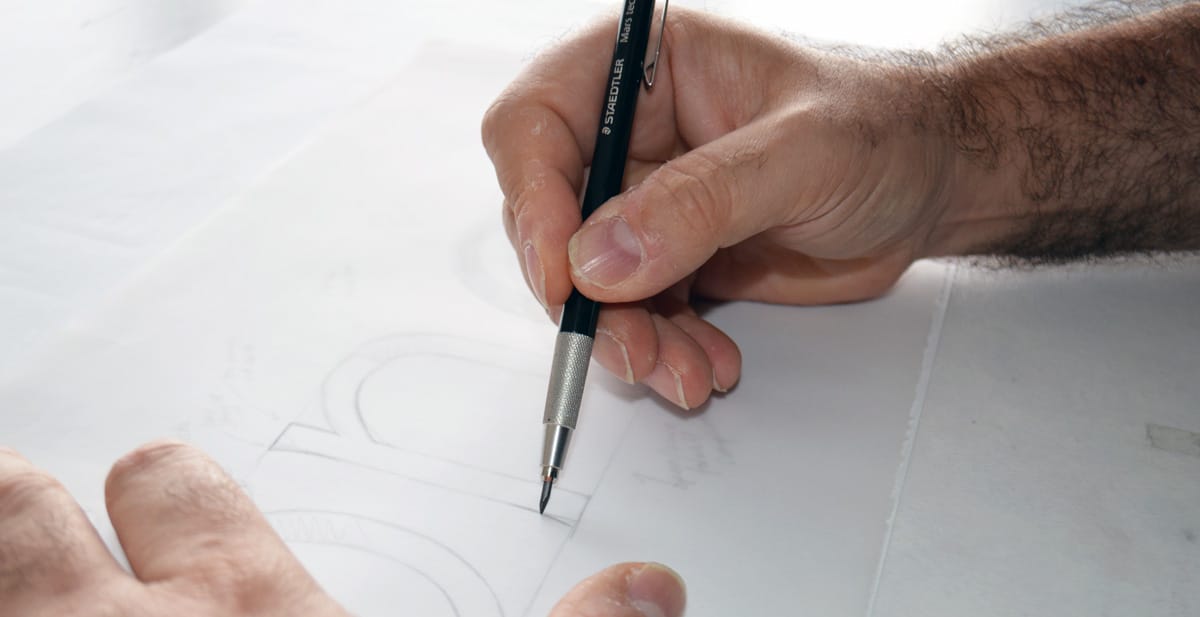 Bespoke type design
Do you have the right tone of voice?
Typography is the building block of design and plays a crucial role in any brand. Owning your own unique typeface can enhance and add value to your brand, making it stand out from the crowd. Remove typography from any brand and you're left feeling isolated and confused, it's vitally important to set the correct tone of voice – allowing the type to articulate clearly.
There are many advantages to owning a unique bespoke typeface. A corporate font gives a powerful sense of continuity in all communication touch points. An exclusive typeface acts like the lifeblood of a corporate identity. The effect is a great deal more subtle than a logo – more a person wearing a distinctive, expensive perfume. A corporate font has genuine value – an essential asset of the client's organization.
There is also a cachet attached to an organization owning a corporate typeface. It says a lot about the organization's ability and interest in communication, their planning and foresight, generally their financial stability and standing in their own market and above their competitors.
Another major factor for having a special range of fonts created is for licensing. With an exclusive font the client has complete control over the nature of its usage, how the typeface asset is rolled out within an organization and to 3rd parties such as printers and subcontractors.
We can help you achieve those custom font goals with our bespoke typeface design service. We endeavour to design and develop a completely new typeface that's unique to your brand and harmonize with your other visual assets. We are able to work to a tight brief in collaboration with the commissioning client, or to function completely freely and creatively to come up with entirely new concepts. Our knowledge, experience and dedication are applied to the design of any range of fonts we produce and that includes custom and corporate typefaces.
Font modifications
Off the shelf customisation.
We offer a font modification service that caters for many different levels – from font naming to glyph customisation, tailored licence agreements to enhanced font features. The font modification service is an effective solution if you need to have an ownable typeface, without designing a font from scratch, due to a limited budget or demanding deadlines.
If you have already licensed a Foundry font but want to change certains glyphs? Our font modifications to off-the-shelf typefaces allows you to collaborate with us to achieve your design objectives.
We provide this service to offer the client the chance to create uniqueness. Making glyph alterations to an existing font from our library or by implementing other customisations we can ensure that the subtle changes suit your clients requirements.
Modifications can vary – large or small depending on the scale of the criteria. Maybe you require an additional weight that doesn't currently exist or even simply renaming an existing typeface in your brand name so the font assets become more ownable and manageable. These changes can all be created as a customised font modification.

The added advantage in having an off-the-shelf modification is the amount of time it takes to make the required changes and develop the final fonts for delivery. This is a much quicker way than developing a font from a blank piece of paper and is more cost effective too. It also enables you to roll out within an organization and to 3rd parties such as printers, developers and subcontractors, whilst managing the assets yourselves.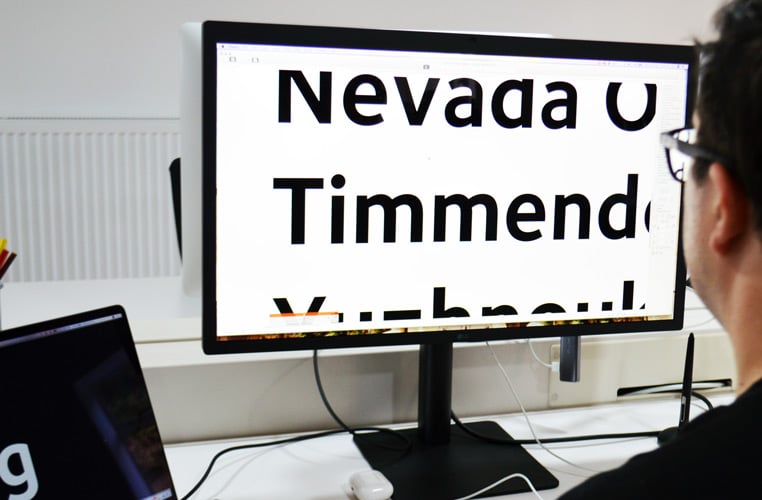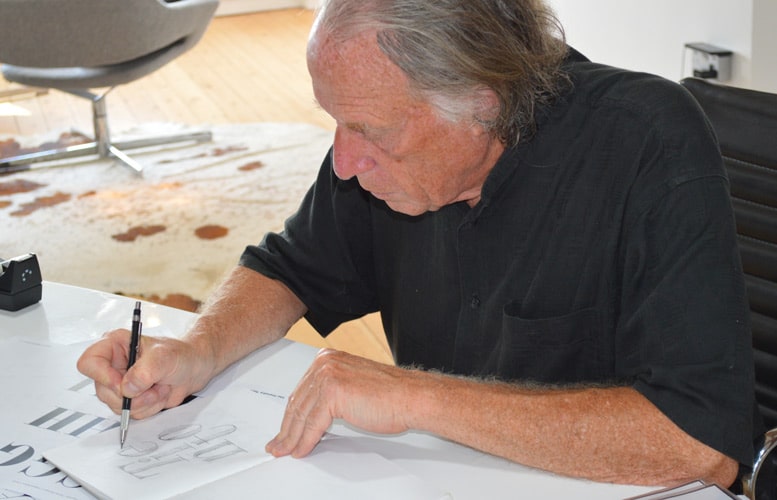 Logo development
Crafting with care.
Type design, logo, wordmark and monograms are all intrinsically linked. They have similar properties, structures and share the same disciplines when designing and crafting them. Many logos are formulated around typographic forms and are sometimes based on a primary font style.
A limited set of abstract shapes allows us to communicate the most abstract ideas. Shapes can convey purpose, emotion, create an atmosphere or show a hierarchy of importance. Typographic design is the craft of fine-tuning the elements of these shapes to a special purpose to fit a clients ideals.
Patience, a sharp eye, an understanding of form, line and textures are all important skill sets. But it's not just about having sharp eyes. That would only mean you might be able to see something was wrong, but wouldn't necessarily know how to make it right. What is important is to have the basic understanding of the structure and proportions of the letterforms and the ability to know when a curve or shape is 'wrong' and how to correct it. This comes from experience, an innate relationship with letterforms gained from analysis and the physical process of creating them.
We have a deep understanding of positive and negative spaces, letterforms and shapes. We balance, harmonize and analyse and we bring a typographers attention to detail and a finely tuned eye. We understand that logo and wordmarks are a vital ingredient to the overall brand language and its importance to you.
Over the years many international design consultancies have used our expertise in font and type related work, with the design and implementation of fonts for large scale corporate identities and brand marks. We can develop, craft and consult at the early concept stage right through to the final delivered artwork. We pride ourselves on integrity, our ability to deliver exceptional drawings and attention to detail – this is what makes us unique.
Language extensions and multi-scripts
More than just A, B, C.
Does your brand typeface demand more widespread coverage and consistency across languages and scripts? It's true to say, there's more to a font than your basic 'A, B C, 1, 2, 3'. Along with the standard capitals, lowercase, figures and punctuation there is a vast array of other glyphs and diacritics to develop and craft that you may need. Here at The Foundry Types we specialize in latin and its language extensions, but we also design scripts including Arabic, Greek, Cyrillic, Devanagari and Gurmukhi.
Over the years we have built up an extensive knowledge in dealing with multi-script designs, enabling us to deliver well-crafted type solutions for global brands. Our approach to any language and script extensions is with thorough research with native speakers, integrity and to show a cultural sensitivity to any given script.
A key stage in the language development process is in its research. We believe that working in close collaboration with native speaking designers allows the flavour and spirit of each typeface to be retained and enables a sympathetic rationale – enhancing the client's valuable asset.
Working with native speakers also allows us to understand complex and diverse scripts and the technical challenges encountered implementing these language systems.

We are able to work to a tight brief in collaboration with the commissioning client, or to function completely freely and creatively to come up with entirely new solutions. Our knowledge, experience and dedication are applied to the design of every Foundry font, or custom and corporate typeface.
If you have a language or multi-script extension project that you would like to discuss or if we can help with any other type related consultancy, feel free to contact us.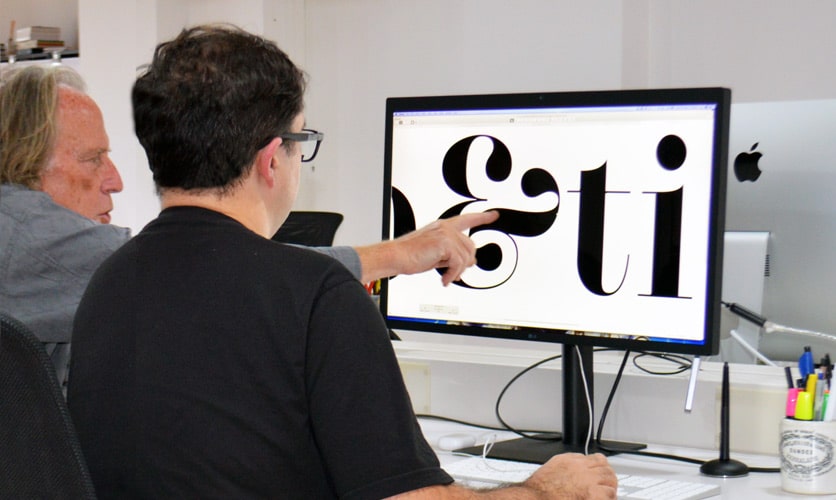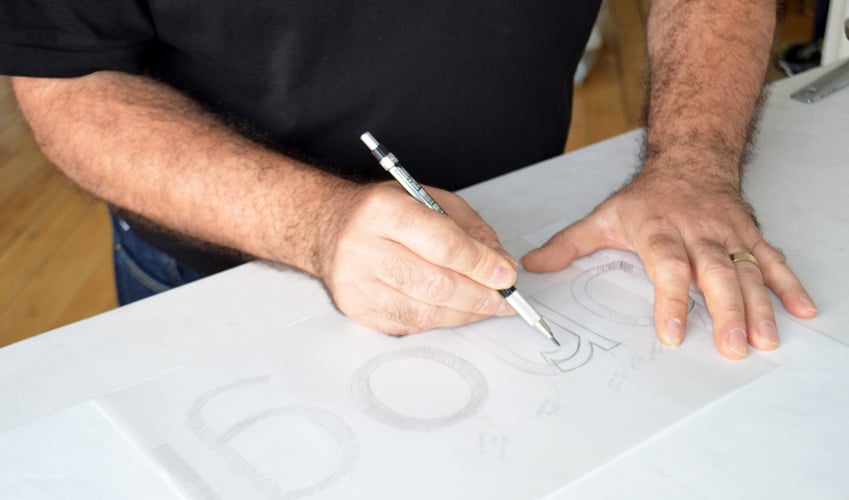 Font licensing
Font licensing doesn't need to complicated.
Ever questioned if you have the correct font licence in place or didn't understand the terms and conditions before purchasing? At The Foundry Types we understand that font licensing can be difficult and complicated – we try to help alleviate the licensing minefield by offering a simple licensing solution. All of our licences have an easy one-off fee and are a perpetual licensing solution.
The key thing to remember when licensing a Foundry typeface – what is the appropriate licence for me or my client? Desktop, Web, App & ePub, Broadcast, games or server licensing all have their own coverage requirements. Not forgetting how many people need to use the font software or how many unique visitors a web site may have. You need to choose the correct licensing bands for amount of Users and not to exceed your usage. If you do go over the limit of licenced Users then an upgrade licence is required.

If you aren't quite sure which licence is right for you, just think about how you intend on using the typeface. We are able to work with you to give you the best advice on licensing options for our fonts. Our extensive licensing knowledge and experience allow us to offer you a personal licensing solution – tailored for you.
Fonts are software and need to be appropriately licensed, if you have any questions based on licensing, a design project that you would like to discuss or if we can help with any other type related consultancy, feel free to contact us.

Type consultancy
Need a typographic solution?
Since The Foundry's 1st inception 30 years ago, we have worked extensively with small and large companies, global brands, design agencies, printers and not forgetting the individual designer. Over that time, we've always held the clients individual typographic needs at the heart of what we do. We offer our expertise in font design and type implementation to deliver a lovingly crafted typographic solution.
Along the way, we've designed custom typefaces for some of the world's leading brands and global companies, including: NatWest, Swiss International Airlines, Yellow Pages, Saudia Arabian Airlines, More Than and WWF (World Wildlife Fund).
There are a myriad of typefaces on the market, in every shape and size. At The Foundry Types we offer a typographic consultancy service that focuses on your specific font requirements, be it a technical matter, overcoming licensing difficulties or purely a design problem. This service is geared towards clients who need assistance, as we know that choosing the right typeface can be a tricky task.

So, if you're a brand whose specific typographic needs can't be met with existing off-the-shelf fonts, and want a new voice or have demanding technical requirements, we can work with you to bring these ideas and concepts to fruition. We can help you find your brand expression, we are only too happy to help.